Hello, everyone ! How are you?
I was not able to write in my weblog for a long time. I wrote this sentence in the last post too... sorry... :(
June and July, I gave some concert.
In the first, I talk about concert in museum.
9th and 10th June, I play a special harpsichord at the Ueno Royal Museum. The exhibition of J.P.Redoute's Arts was opened here. There was a special harpsichord. This instrument was made in Akira Kubota Music Instrument Workshop. The copy flowers of Redoute's were drown at the harpsichord. The project members call it "Redoute clavecin" or "Redoute Cembalo". So I play it at the Museum event.
This photo is "Redoute clavecin".
There were many Redoute's arts around me. It's very happy!! So I like his arts.
I play French pieces by the harpsichord. Duphly's Les Graces and Chaconne, F.Couperin's Les Baricades Misterieuses and so on.
And I play with Mio Takayama, Soprano. Rameau's Le Rossignol... and Marie Antoinette's piece.
This concert had a mean of BGM at the museum too. So I have released CD for the exhibition of Redoute.
Please, see a page of Amazon about our CD "Le Temple de l'amour" !
I'll talk about this CD and Recording at this weblog :) I played the harpsichord in this CD Recording.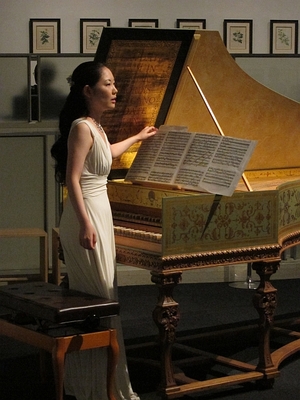 In the concert, I talked about the French music of harpsichord.
In many my concert, I do too.
Many many listners came the concert of 2Days. I was suprised it :D
3rd Photo, left is me, center is Akira Kubota [Harpsichord Builder], right is Mio Takayama [Soprano].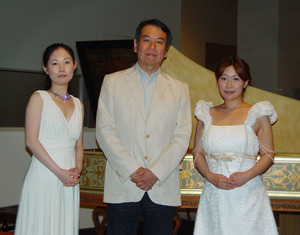 Please see the CD leaflet ! ; It is written by Japanese Language.
And see the instrument !
In my photo, we can't see flowers at harpsichord. But we can see it at the leaflet.
Very very beautiful harpsichord, isn't it ?
Sure It's very very nice that the harpsichord have sounds.
Today, I say many "plaease". And I say more "please" !
Please watch my movie. The movie is this museum concert.
I'll talke about concert of 18th June at the next post. wait for a little ! :D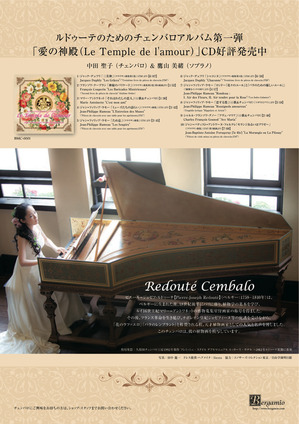 Tweet